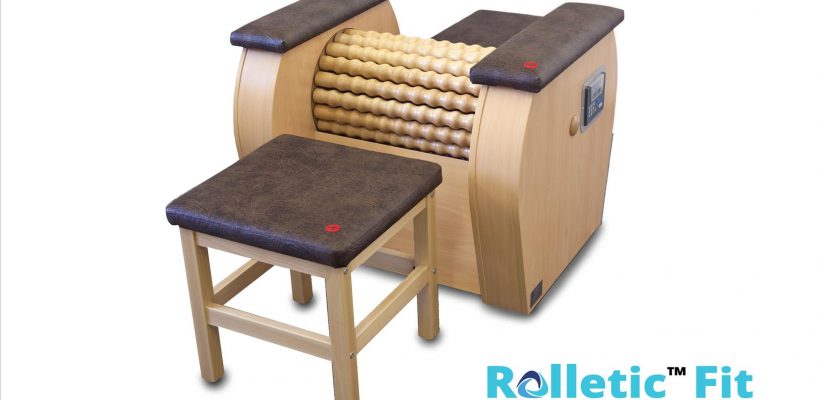 The Rolletic Massage and Reconditioning Machine is a Unique Motorized Fitness Massage Roller. It is professional equipment with a unique design to provide a therapeutic massage that follows acupuncture lines (meridians) along the body – leading to better skin cell function. The Rolletic Fit concept uses one of the ancient methods of Chinese therapeutic massage to enable slimmer body contours, allowing cellulite reduction with improved skin structure and strength, muscle flexibility for improved performance, and detoxification – leading to improved immune system. The effect of this Motorized Fitness Massage Roller means a considerable improvement of adipose tissue metabolism that significantly shrinks fat pads, improves skin and subcutaneous tissue metabolism, increases muscle tone, and mobilizes lymphatic flow. The skin becomes more supple, pliable, and firmer.
Rolletic Fit massage starts at the lower legs, always in an upward direction towards the heart, including outer and inner thighs, hips and buttocks as well as the belly area. With gentle pressure and a message via the smooth wooden rollers at 53 rpm, the lymphatic system is invigorated and the peripheral skin tissue gets detoxified.
In the process, the use of Rolletic relaxes tight muscle groups from either physical activity or repetitive movements on the job. It also reduces the volume/size of massaged body areas and significantly reduces the negative effects of cellulite – bumps, lumps, venous insufficiency, and connective tissue weakness. Rolletic truly makes it possible for the individual to improve physical appearance from weight loss.
The therapeutic massage is performed by 20 rollers made of hard, but very smooth, wood with unique shapes that allow all the acupressure points to be massaged in a given position. The massaging drum rotates in one direction at a constant speed of 53 rpm and mimics the pumping action of muscles. The benefits of Rolletic Fit massage cannot be duplicated by any daily exercise training regimen, manual massage, or manual lymph drainage process.
Certain principles have to be followed, and Rolletic massage has to be performed correctly. The principles include drinking plenty of water at all times, including before and after using Rolletic.
The result you will realize include:
Decrease in the size of massaged body areas (decrease in cm)
Tightened skin
Improved skin structure & strength
Cellulite reduction
Smooth, fresh looking skin
Improved weight loss
Reduced skin toxin build-up and improved immune system
Reduced muscle tension
Overall tension & stress reduction
Feeling Energized and refreshed